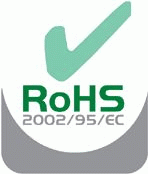 RoHS. WEEE. ELV. California Proposition 65.

In markets around the globe, manufacturers adapted their supply chains to meet these environmental regulations by July 6, 2006. At TechSource Thermal Solutions, we undertook and completed a comprehensive review of our products to ensure they met the limits on the presence of substances banned or restricted by these directives.

These substances are: Lead (Pb), Cadmium (Cd), Mercury (Hg), Hexavalent Chromium (CR+6), Polybrominated Biphenyls (PBB), and Polybrominated Diphenyl Ethers (PBDEs).




TechSource Thermal Solution's
Compliance with the Restriction of Hazardous Substances (RoHS)

Two of these substances are widely used in the production of thermal management products and presented special challenges:

Lead (Pb) in plating of solderable tabs and pins of board-level heatsinks for low-power devices (for example, TechSource's "RPB-series"). TechSource moved to a RoHS-compliant plating system in early 2005.

Heatsinks with chromate conversion coatings. TechSource now uses an alternate chemical conversion coating that is free of hexavalent chromium (Cr+6).This coating has been certified by an independent laboratory for RoHs-compliance - a copy may be obtained by contacting our office, or your local TechSource distributor or representative.


TechSource Thermal Solutions is pleased to inform our customers that these primary instances of RoHS-restricted substances have been addressed, and to the best of our knowledge all our standard products are fully RoHS/WEEE compliant today..

TechSource Supports the Global Environment

As a global organization, TechSource Thermal Solutions views the various bodies of legislation and the need to implement and comply with them as a key element of our business activity.

We believe that early compliance to RoHS reaffirms our commitment to make it easy to do business with TechSource and to promote green products.
Copyright &copy 2020 Techsource Thermal Solutions, Inc. All rights reserved.